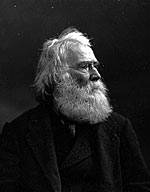 Source: McCord Museum, I-42425

Sir William Edmond Logan was a highly intelligent individual who set high standards for geological mapping, and left an enormous legacy. Not only are there a number of prestigious medals and prizes awarded in his name (some because of his financial contributions to McGill University), there are more than a few geological entities named for him: two mountains, a mineral (weloganite), some fossils, a lake, an inlet, a township in Québec, the path of the earth's magnetic pole during the Proterozoic Era (Logan's Loop) and many others. Logan was born on April 20, 1798 in Montréal, where he lived until the age of 16, when his father shipped him and his brother to Edinburgh to attend high school. After high school, Logan enrolled at Edinburgh University as a medical student and did extremely well scholastically, though he dropped out after a year to work for his Uncle Hart's banking business in London. In 1831 he was appointed as manager at the Forest Copper Works, a copper smelting and coal mining business located in Morriston, Swansea, Wales, a company that his uncle had invested heavily in. After taking the management position, Logan realized the current maps of Wales were much too generalized to be able to accurately predict where continuous coal supplies could be found, so he used the surveying equipment that was available at the time (a compass, a theodolite, and barometers) to construct maps that were so accurate that current geological maps for South Wales continue to credit him as a co-author.
| | | |
| --- | --- | --- |
| | | |
| Source: McCord Museum, I-1828.1 | Source: McCord Museum, I-66578.1 | Source: McCord Museum, I-42425.1 |
Despite his distaste for fame and accolades, Logan garnered many. He was elected to the Geological Society of London in 1837, and in 1842, he became the first director of the Geological Survey of Canada, and spent much of his time in the bush, surveying, mapping, and sketching. He kept meticulous diaries filled with observations and sketches, and seemed to never stop working, as he collected data and samples from sunrise to sunset, and often wrote in his diaries by the light of his campfire. In 1851 he organized and exhibited an extensive collection of Canadian minerals at the Crystal Palace in London, as part of the landmark Exhibition of the Industries of All Nations. The exhibition was a huge success, and Logan won the respect and admiration of scientists worldwide. In that same year, he became the first Canadian to be elected as a fellow of the Royal Society, and was bestowed a knighthood in 1856.
| | |
| --- | --- |
| | |
| Source: Geological Survey of Canada, GSC 68772 | Source: Geological Survey of Canada, GSC 77280 |
Shortly thereafter, he received the honorary degree of LLD from McGill University, and several other international medals. He endowed a chair and medal at McGill where his friend J.W. Dawson was Principal. Despite these honours, or perhaps because of them, he preferred the solitude of the Canadian wilderness, but failing health caused him to retire from the Geological Survey in 1869. He moved back to Wales and lived with his sister until his death on June 22, 1875. His remains were buried at the church of St. Llawddog at Cilgerran, Pembrokeshire.