Canadian Officers' Training Corps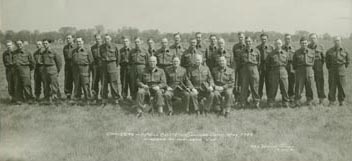 McGill contingent of the Canadian Officers' Training Corps
1
The McGill contingent of the Canadian Officers' Training Corps was established in 1912 to train students as militia officers. Its first commander was V.I. Smart, a McGill professor of railway mechanical engineering. The McGill COTC was formally connected with the 148th (McGill) Battalion of the Canadian Expeditionary Force, and associated with a number of other units. Initially only infantry training was given, but beginning with the Second World War, training was given in all arms of service.
New recruits were trained in map reading, military law, organization, and administration. Upon completion of training, recruits were sent to a branch of service for which they were best suited, such as the cavalry, artillery, infantry, flying corps, engineers, signals, medical corps, or army training corps. Training took place in various locations in Quebec and Ontario, such as Saint-Jean-sur-Richelieu, Niagara-on-the-Lake, Farnham, Saint-Bruno and Petawawa.
On the eve of war, the McGill COTC issued the statement, which appeared in the Autumn 1939 issue of The McGill News: "the establishment [of the COTC] will be increased and for the present enrolment will be restricted to British subjects and undergraduates of McGill and past students of all universities." The McGill University Senate resolved on September 16, 1941, that "British male students who are pursuing a regular full-time course proceeding to a degree or diploma will be required to take military training, in accordance with the program laid down by the Department of National Defence, provided that they are physically fit." The training was organized by the COTC. Overall the McGill COTC provided military training for more than 12,000 men.
References
McGill University Archives, 0000-0481.04.1
McGill contingent of the Canadian Officers' Training Corps: Summer Camp, Niagara-on-the-Lake
Photographer: Willey Studio