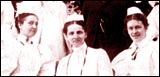 Nursing in Canada, whose history has important chapters in Montreal and at McGill, had inauspicious origins in this city. In 1877, the first "lady nurses" arrived at the Montreal General Hospital: a superintendent of nursing named Maria Machin and five assistants, all trained at Londonís prestigious Nightingale School of Nursing. The nursesí trained methods were quite different from the Montreal Generalís routines, and the entire group of women returned to England within a short time. In 1890, after several more false starts, the hospital hired Nora Livingston, who implemented a successful program to train new nurses at the hospital. Other Montreal hospitals followed suit, notably the Royal Victoria Hospital, which had similar problems in accommodating nursing until it recruited Mabel Hersey in 1908. Hersey, like Nora Livingston, worked with the Hospital administration to direct a working program which was advantageous to all involved.
Throughout the first few decades of the programsí existence, nursesí training strongly resembled a trial by fire. After a few weeks of practical instruction, nursing students were expected to care for full wards of patients, often with very little supervision. By 1917, Mabel Hersey and Grace Fairley, the head of the nursesí program at Alexandra Hospital, had conceived of a higher standard of training, conducted in a more academic setting. In 1920, the women proposed a plan for a nursing school to the board of McGillís Medical Faculty. The proposal was approved nearly immediately, and the McGill School for Graduate Nurses was established in June of 1920, offering advanced training for nurses who had already earned their RN degrees.
In the next decades, the school expanded, with continuing success and outstanding graduates. In 1940, after donations from remarkably loyal alumnae had kept the school afloat during the Depression, the School for Graduate Nurses officially became part of the Faculty of Medicine. Today, after more than eight decades of continual progress and expansion, the McGill School of Nursing offers BSc (nursing) and MSc (applied) degrees to graduates of RN programs.
click image to enlarge