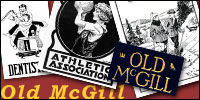 Campus life has been richly expressed for over a century in editions of the University yearbook, Old McGill. A photograph of nearly every McGill student has been printed, either in a group Faculty photo or individual graduate portrait, in the publicationís many volumes.
While candid photographs of student life and activities are a relatively recent addition, having first appeared in yearbooks of the 1930s, lively descriptions of favorite rituals have always featured prominently in the pages of Old McGill.
One tradition of long standing was the Medical studentsí banquet, vividly chronicled in every Old McGill from 1898 to 1918. These accounts invariably feature parades of outrageously costumed students; pompous, satirical speeches; and long-winded tributes to their "illustrious and ignoble potentate," James "King" Cook (whose official position was janitor of the Medical building).
As Old McGill became an increasingly official publication, its reports on student revelry became more restrained. "Candid" photographs of campus events, extracurricular activities, and daily life in Residence halls replaced blow-by-blow accounts of riotous parties and in-jokes on every page; however, the yearbook continued, and continues, to offer vivid accounts of how students work and play at McGill.