McGill Remembers WWII
Victory: The Return Home
Following Victory Day

in Europe (May 8, 1945) and Japan (August 15, 1945), thousands of jovial citizens streamed into the streets of Montreal. Similarly, there were over a thousand returning veterans enrolling at McGill University, which, consequently, threatened to swamp the university's faculties.

click image to play video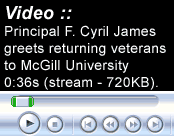 In order to accommodate this influx, Principal F. Cyril James secured a lease for a former R.C.A.F. base, built in 1940-41, at St-Jean, Quebec.
click image to enlarge
Dawson College, named for former McGill Principal Sir William Dawson, was opened on September 26, 1945. All first year students in Science and Engineering as well as some second year students from these faculties attended the college.
click image to enlarge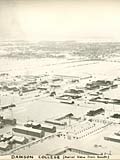 Dawson was a residential college with accommodations for the returning veterans as well as for their spouses and children. The boisterous spirit of the returning veterans animated Dawson College and manifested itself through enthusiastic support of clubs, social events and athletic teams as well as a tendency towards practical jokes. The inscription of "Dawson---Montreal branch" on the student ice place of the McGill downtown campus and the crowning of Betty, a Saint Bernard dog, as Queen of Dawson were two well known examples of this humor.
click image to enlarge
The student population of Dawson College peaked in 1947 with 1687 students but fell off to 654 by 1950 when it was closed. In all over 5600 students, chiefly veterans attended Dawson College. The college was presided over by a Vice-Principal and administered by other McGill staff including a secretary and assistant bursar and a superintendent of Buildings and Grounds. Due to its isolation, the College also had a fire department and a small hospital. The last Vice-Principal of Dawson, W.H. Hatcher, commented on the closing in 1950 saying it was "the end of McGill's most daring and successful educational experiment in one hundred years"
click image to enlarge