At the outset of the First World War, a group of McGill women began an effort to support the many McGill students who were going overseas. Upon the request of this newly-organized Women's Union, the University administration set aside a large room in Strathcona Hall for this work. The Union purchased material and made garments in this room; during the early years of the war, every McGill soldier received a parcel of clothing from the Women's Union. Later, when the sheer numbers of enlisted made this impossible, the women sent practical items to each unit where McGill men served. McGill's "University Companies," made up almost entirely of men affiliated with the University, were also largely outfitted by the Women's Union. In all, the women produced over 6,000 pairs of socks, 1200 caps, and 900 flannel shirts.
click image to enlarge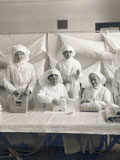 In 1916, another phase of production began in the Medical Faculty. In another large room which had been set aside for the women's war effort, Lady Gordon took charge of the production of Spaghnum dressings, bandages named after the type of moss they used. The bandages were such a success that the Canadian government chose them to be used officially, and the McGill Spaghnum Depot (as the workroom in the Medical building was by then called) became the central facility for official design and testing. Once the Spaghnum dressing had been approved for military use, models and instructions for making them were sent to other Depots across Canada. The McGill Depot alone sent 25,000 dressings and pads to overseas hospitals.