McGill Remembers WWII
Students to Soldiers
On September 3, 1939

, Britain declared war on the advancing German army, plunging the European continent once again into a darkness not seen since World War I. On September 10, Canada declared that a state of war existed with Germany.
click image to enlarge
In the days following Britainís declaration of war, the McGill University Contingent of the Canadian Officersí Training Corps (C.O.T.C.) found itself the center of campus attention, with young McGill men and women volunteering to serve and support the war effort in any capacity.
click image to play video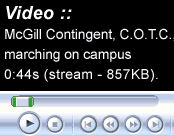 The McGill University Contingent, C.O.T.C., was founded in 1912, a few years before the outbreak of World War I. The function of the C.O.T.C. was to provide military training for McGill students and staff. Initially only infantry training was given, but later, beginning with World War II, training in all the different arms of the service was provided. As such, new recruits were trained in map reading, military law, organization, administration, and upon completion were sent to a branch of service in which they could best contribute their talents and skills, such as cavalry, artillery, infantry, flying corps, engineers, signals, medical corps, army training corps, and so on.
On the eve of Canadaís declaration of war, the McGill C.O.T.C. issued the following statement, which appeared in the autumn 1939 issue of the McGill News: "The establishment [of the C.O.T.C.] will be increased and for the present enrolment will be restricted to British subjects and undergraduates of McGill and past students of all universities." The statement continued, explaining that those interested in enlisting should sign up at the "C.O.T.C. Headquarters, 3480 University Street, Montreal, which will be open every evening after 8. p.m., commencing September 11, 1939."
Following in their Alma materís footsteps, the new McGill recruits - now disciplined and decisive officers thanks to their C.O.T.C. training - were sent overseas into combat.