The Installation Ceremony:
History and Tradition
The Installation of Dr. Heather Munroe-Blum as McGill Universityís 16th Principal and 12th Vice-Chancellor on March 10, 2003, follows a long tradition of institutional ceremony in which the University and academic representatives from around the world welcome the leadership of a new Principal. This virtual exhibit was created to celebrate and honour her Installation and those who preceded her in "...a long line of eminent and learned Principals."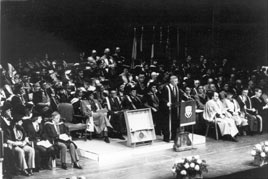 Click image to enlarge
University installation ceremonies are as varied as the institutions they represent. Common elements of installation ceremonies include:
the procession of academic dignitaries in dress that originated with the church and royalty of the Middle Ages
official music representing the institution (a university song) as well as music suitable to the ceremonial nature of the occasion
official greetings or charges
the bestowing of a ceremonial robe to the incoming principal
the presence of representatives from various constituencies, including faculty, students, staff, administration and government
Installation ceremonies are often held in conjunction with other campus events such as convocation, but may also be on their own as stand alone events. While there is no evidence of a unique Canadian university tradition of installation, Acadia, Mount Alison, and University of Toronto each had early traditions of installation ceremonies.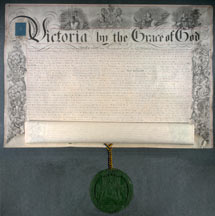 Click image to enlarge
Key to the university installation is the presence of the institutionís insignia, either in the form of a special symbolic artifact, such as a mace, letters patent, presidentís chair, or as in the case of McGill University, its 1852 Charter and Seal.

The 1852 Charter appoints as the official Visitor of the University the Governor of Lower Canada. However, since Confederation in 1867, this office is filled by the Governor General of Canada. The Visitor plays an important role in the Installation of McGill Principals, delivering a greeting or charge entrusting the University Charter and Seal to the incoming Principal.
The consistent features of public Installations, whether held with convocation or as stand-alone events, are the representation by constituencies (other universities, academic staff, staff, students, alumni), the use of the 1852 University Charter and Seal, the delivery of greetings or charges, the use of Hail Alma Mater, and the role of the Chancellor and the Visitor.