Book of Remembrance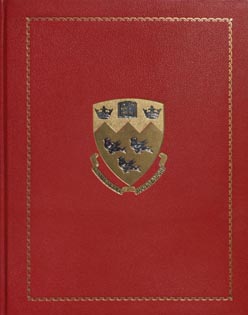 Click on image to view book
McGill University first began to undertake commemorative projects related to the Great War soon after the conflict ended. In 1926, the University commissioned the first book of Remembrance, known as the McGill Honour Roll, listing the names of close to 400 staff, student and faculty who lost their lives during the First World War. Approximately twenty-five years later, a second book of Remembrance was created. This illuminated Book of Remembrance records nearly 700 names of McGill individuals who died while serving in uniform either during or after World War I and World War II. Approximately 9,000 students, graduates, staff and faculty served in both wars. As such, McGill University has recognized the importance of honouring its students, staff and faculty who lost their lives, and "We Shall Remember Them".1
In 1944, McGill University initiated a fundraising campaign to build a memorial complex to commemorate those who had fallen and to house memorial plaques, battalion flags, and portraits, such as the Unknown Soldier, in addition to a new Book of Remembrance. The University raised more than $725,000 for the construction of Memorial Hall and Memorial Pool, which would be an extension of the existing Currie Gymnasium and Armoury on Pine Avenue West in Montreal. On November 26, 1950, the Viscount Alexander, then Governor General of Canada, officially opened Memorial Hall and Memorial Pool, and the Book of Remembrance was placed on public display.
The opening of Memorial Hall and Memorial Pool was attended by 1,200 family members and friends of those listed in the Book of Remembrance. Nestled between two marble panels inscribed with the names of major battles, the Book lay in a brass and marble display case opposite the portrait of the Unknown Soldier. On a regular basis, McGill staff turned the pages to display the next set of names. By the mid-1980s, this practice was discontinued when the last known Remembrance Day event was held in Memorial Hall.
For the next thirty years, the Book of Remembrance lay untouched until it was removed for restoration and digitization. In February 2014, the Book of Remembrance was removed to be carefully cleaned, humidified and repaired. After five months of restoration and conservation work, the Book of Remembrance was returned to the McGill University Archives. The book has been digitized, and can be viewed by clicking on the image of its cover.
Inside the Book of Remembrance, the Governor General of Canada wrote a dedication asking everyone to remember the sacrifice of these soldiers and to be humbled by their deeds. Each name is handwritten in calligraphy and the pages are illuminated in hues of red, blue, green, gold and silver. The cover of the Book of Remembrance is inscribed with a gold and silver encrusted emblem of the University.
A replica of the book is housed in a special display case located in the pedestrian bridge connecting the McLennan and Redpath Libraries. The original Book of Remembrance is available for viewing in the Rare Books and Special Collections, and Archives Reading Room, which is located on the fourth floor of the McLennan Library Building.
fullscreen
References
McGill University Archives, 2014-0058.01.1 Book of Remembrance