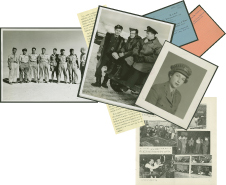 The Project
With respect to the archival components, the McGill Remembers Project has been undertaken in two phases. The current phase began in 2009 when the McGill University Archives started the systematic digitization of the McGill University War Records with a view to making them available online. In preparation for the digitization, staff reviewed the composition of extant archival records, studied the organizational context in which they were created, as well as tracing the custodial history within the institution. Senior Archives' staff then established the parameters of the project and the technical requirements, and examined curatorial and access considerations such as physical condition, copyright, and protection of personal information.
The digitization took place between 2010 and 2012, and was conducted largely by graduate-level students from McGill's School of Information Studies under the McGill Work Study program. This initiative exposed the students to these records, providing them with in-depth knowledge of the engagement of McGillians in the Second World War. It also offered work experience: under the supervision of Archives' staff, students participated in both project planning and execution. The lessons learned from the project will be carried to their future professional endeavours.
In the first phase of the McGill Remembers project that began in 2005, the focus was on preparation of a virtual exhibit and conducting historical research. The objective was to provide online access to a sampling of the War Records and the compelling stories they tell. The outcome of this earlier phase is available in the Legacy Material section of this site.